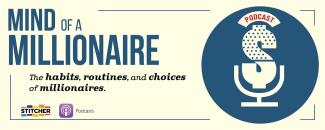 Mind of a Millionaire: March Portfolio Review Meeting: ESGs, Super Tuesday, Coronavirus
Thank you for tuning in to another episode of the Mind of a Millionaire podcast. This episode was recorded following our Investment Committee's monthly portfolio review meeting. In this meeting we covered a lot considering the recent volatility in the markets that caused fear among investors.
This week, we are discussing ESGs, investing in the things you believe in, the democratic primary, and the coronavirus. Toward the end, we will discuss the Fed's recent rate cut and what that means for investors.
Follow us on Twitter for regular personal finance updates, Facebook for DWM news and events, and join our email club for DWM updates, event invitations, and our monthly outlook.
 What is the difference between SRI (Socially Responsible Investing) and ESG (Economic, Social, Governance) investing?
How can you check if you're invested in ESGs?
Super Tuesday
 What's the most favorable outcome for investors?
The ages of the democratic leaders
Coronavirus: where can you get credible information?
What is the short-term noise vs. long-term impact?
Worst case scenario for coronavirus
 Will the coronavirus shut down the US economy?
What does history say about the coronavirus' impact on the market?
Graphic Credit: First Trust, Epidemics and Stock Market Performance Since 1980
This is a buying opportunity
"When the market turns red, I see opportunity." – Peter Lynch
The Fed cut rates; should investors be worried?
What do interest rate cuts mean for the long-term economy?
Investor's Call to Action
Thank you for listening. As Zak mentioned, if you are curious about your portfolio, please don't hesitate to reach out. If you are looking to start investing, now may be a great opportunity – we are happy to discuss.
Securities offered through LPL Financial, Member FINRA/SIPC. Investment advice offered through Providence Capital Partners, Inc., a registered investment advisor. Providence Capital Partners, Inc. and Denver Wealth Management are separate entities from LPL Financial.
The opinions voiced in this material are for general information only and are not intended to provide specific advice or recommendations for any individual.
No strategy assures success or protects against loss.
Bonds are subject to marker and interest rate risk if sold prior to maturity. Bond values will decline as interest rates rise and bonds are subject to availability and change in price.
All performance referenced is historical and is no guarantee of future results. All indices are unmanaged and may not be invested into directly.
The economic forecasts set forth in this material may not develop as predicted and there can be no guarantee that strategies promoted will be successful.
The information in the links above are being provided strictly as a courtesy. When you link to any of the web sites provided here, you are leaving this web site. We make no representation as to the completeness or accuracy of the information provided at these web sites. Nor is the company liable for any direct or indirect technical or system issues or any consequences arising out of your access to your use of third-party technologies web sites, information and programs made available through this web site. When you access one of these websites, you are leaving our web site and assume total responsibility and risk for your use of the web sites you are linking to.
All information is believed to be from reliable sources; however, Denver Wealth Management and LPL Financial make no representation to its completeness or accuracy.