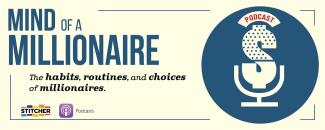 Mind of a Millionaire: Bear Down; the Dow's Worst Day Since 1987
This episode comes a little early in response to the worst day in the Dow Jones since 1987. After finished down 9.99%, mainly due to the widespread coronavirus and the decreased oil prices, we wanted to take a couple of minutes to touch base.
This episode will answer some of the larger, more frequently asked questions that we have received thus far. Of course, our team is available – if you have any questions do not hesitate to reach out.
What's going on in the market?
Investors have started selling bonds
The Fed purchased nearly $500MM in short-term treasuries
 When is the right time to 'buy the dip'? 
Should I sell anything? 
Is right now a time to hold on and power through or move to cash? 
If your house is worth $400k and someone offers you $300k, would you sell just because you think it may drop to $200k?
Owning individual stocks
How will major sports/event cancelations impact the economy? 
Stick to your long-term game plan
Thank you for tuning in – we hope you found this market update helpful. Again, if you have any questions, please do not hesitate to reach out.
Securities offered through LPL Financial, Member FINRA/SIPC. Investment advice offered through Providence Capital Partners, Inc., a registered investment advisor. Providence Capital Partners, Inc. and Denver Wealth Management are separate entities from LPL Financial.
The opinions voiced in this material are for general information only and are not intended to provide specific advice or recommendations for any individual.
No strategy assures success or protects against loss.
All performance referenced is historical and is no guarantee of future results. All indices are unmanaged and may not be invested into directly.
The economic forecasts set forth in this material may not develop as predicted and there can be no guarantee that strategies promoted will be successful.
Any individual securities mentioned are for reference only and are not intended as a recommendation to buy or sell.