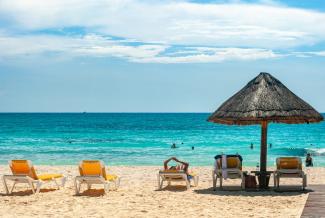 What's the Deal with Timeshares?
Subscribe to the Mind of a Millionaire Podcast on iTunes, Spotify, or Stitcher.
A timeshare can be a very attractive investment—you have at least one locked-in vacation per year—but the closer you look at it, the more you realize it isn't an investment at all. Yearly fees, constant inflation, and the inability to cancel contracts are just a few of the horrors that come with owning a timeshare.
In this episode of the Mind of a Millionaire podcast, I will discuss what timeshares genuinely are and why you should never 'invest' in one. 
NOT FOR EVERYONE
When I googled "timeshare," the first three ads to pop up pertained to getting out of one. Usually, if your top Google search results warn against the sought-after investment, you may want to reconsider. 
Denver Wealth Management (DWM) works with over 600 families, and of these families, I am aware of two that have a timeshare and love them. These two families are the exception. One of them visits their timeshare whenever possible, and the other has mastered the timeshare points system—a very challenging accomplishment.
Every other family I know wants to get out of their timeshare. So, why is that?
THE PROBLEM
The main reason folks want out is financial. When you purchase a timeshare, the contract states that you are legally bound to pay for your timeshare forever and ever.
At the risk of boring you with my rant about timeshares—a banal rant at that—the central issue of timeshare ownership is just that: you sign a contract that you can never terminate. Even when attending informational meetings about timeshares, they will disclose that this is a lifelong commitment.
That said, folks don't buy timeshares; they are sold timeshares. I think it's rare that folks hop on the computer and voluntarily seek out a timeshare opportunity. Heck, if that were the case, you'd have to sift through the plethora of websites screaming, "don't do it!"
The more realistic road to timeshare ownership involves a well-timed pitch during a complimentary four-day, all-inclusive retreat. These well-trained sales folks will bombard attendees with some good ole' vitamin D, saltwater, snacks, and drinks until they're essentially forced to sign a contract.
And when I say forced, it might sound heavy-handed, but I've heard the horror stories. Just a week ago, someone who I know committed to purchasing a timeshare—one timeshare. Low and behold, her paperwork listed two timeshares. Yeah, it may have been a mistake, but likely an intentional mistake.
Unfortunately, this is not an uncommon practice in the timeshare industry, and it's these types of traps from which you should steer clear.
THE QUEEN OF VERSAILLES
There's a neat document called "The Queen of Versailles" that follows Jackie and David Siegel's lives in 2008 throughout the construction of their Versailles Palace in Florida. For those of you who enjoy personal finance podcasts, which I would assume to be most of our audience, I think you would enjoy this documentary.
Recorded during the U.S. financial crises, this documentary follows the Siegel family as they break ground on one of the most eccentric single-family mansions in the nation. (On a side note, the largest privately-owned home in the United States is the Biltmore Estate in North Carolina.)
How does one afford a $30,000,000+ mansion? David Siegel, the billionaire owner of Westgate Timeshares, built an empire on scamming folks into a valueless investment. Released in 2012, The Queen of Versailles captures how genuinely deceitful and manipulative the industry is, revealing the true goals of the timeshare industry: get folks to sign up, overpay, and never use it. 
HOW THE SCAM WORKS
Sure, on the surface, a timeshare might look appealing because you get a discounted rate for an extended stay. For example, Hotel ABC may charge $600 for a three-night visit. However, if you pay that $600 to a timeshare (plus a one-time sign-up fee), you can enjoy six nights each year at that same hotel.
That said, there's a catch (realistically, a few catches)! The $600 annual maintenance fee will most likely climb each year, often outpacing inflation. Instead of $600 in 2022, you might pay $750, then $1,000—a bill you are obligated to pay indefinitely.
Why pay for the same hotel every year when cheaper hotel options are out there? While you can swap your timeshare points to visit other cities, you end up paying more for miscellaneous accommodations that the timeshares try to hide from you.
EXIT COMPANIES
That financial lock-up is the reason so many timeshare exit companies exist. Well, spoiler alert: the exit strategy is to stop paying. The timeshare company will send some nasty letters until you basically default.
Unfortunately, you don't have much legal pull as you signed a contract. For that reason, the timeshare company could take you to court to enforce the agreement; but, most don't. The company doesn't want to go to court, risk bad publicity, then have unhappy owners with whom they have to fight each quarter for maintenance dues. 
FINAL THOUGHTS
When it comes to timeshares, the cons heavily outweigh the pros. As mentioned, it may work for a couple of people, but they are the vast minority.
In the past, I've talked about the present-moment you vs. the future-moment you. While Present You might think that timeshares will be a gift to Future You, they're not.
As the adage goes, what happens in Vegas, stays in Vegas. If you want to go on vacation with your family, write the check, enjoy your vacation, and don't bring it home in the form of a lifelong contract.
If you have any questions about timeshares, budgeting for a vacation, or your long-term financial plan, call our office at (303) 261-8015 or schedule a free consultation on our website.
Disclosures
Securities offered through LPL Financial, Member FINRA/SIPC. Investment advice offered through Denver Wealth Management, Inc., a registered investment advisor. Denver Wealth Management, Inc. is a separate entity from LPL Financial.
The opinions voiced in this material are for general information only and are not intended to provide specific advice or recommendations for any individual.
All investing includes risk including the possible loss of principal. No strategy assures success or protects against loss.
All information is believed to be from reliable sources; however, Denver Wealth Management, Inc. and LPL Financial make no representation to its completeness or accuracy.
Companies mentioned are for informational purposes only. It should not be considered a solicitation for the purchase or sale of the securities. Any investment should be consistent with your objectives, time frame and risk tolerance.
The information in the links above are being provided strictly as a courtesy. When you link to any of the web sites provided here, you are leaving this web site. We make no representation as to the completeness or accuracy of the information provided at these web sites. Nor is the company liable for any direct or indirect technical or system issues or any consequences arising out of your access to your use of third-party technologies web sites, information and programs made available through this web site. When you access one of these websites, you are leaving our web site and assume total responsibility and risk for your use of the web sites you are linking to.