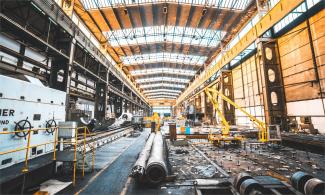 Should Investors Fear the Coronavirus?
Two things have roiled the markets for the past couple of weeks: the slow spread of coronavirus and the democratic presidential nomination. The combination of these two economic factors have led to substantial selling, resulting in the worst week in stock market history.
When the market drops fast, many investors wonder if the move to cash is the best strategy. In times like these, we often refer to Peter Lynch, one of the best investment managers of the 1980's, who said:
"Far more money has been lost by investors preparing for corrections, or trying to anticipate corrections, than has been lost in corrections themselves."
As long-term investors, trying to beat market fluctuations is a losing game. It's similar to trying to beat the casino in a game where they have the advantage – in the long term, you will most likely lose.
First, let us address the chance that Bernie Sanders gets the nod for the democratic presidential nomination. We are keeping a close eye on this possibility, but for sake of brevity, we will go more in-depth as we get closer to the primary.
Second, and arguably more pertinent, is the coronavirus, which has infected nearly 80,000 people and appears to be slowly spreading on a more global scale.
"According to Worldometer, which aggregates statistics from health agencies across the world, total active cases peaked about a week ago at 58,747 and have since been declining.  Even with all the new cases we are seeing in South Korea, Italy and Iran (where data is suspect). There have been 30,597 cases with an outcome (2,699 deaths and 27,898 recovered).  In other words, the total active cases now stand at 49,923, a drop of 15% from the peak on February 17th.
One death is too many, but to put that number into a little bit of perspective, according to the World Health Organization, in the United States alone for the 2019-2020 season, there have been at least 15 million flu illnesses, 140,000 hospitalizations and 8,200 deaths. Imagine if everyone with an internet connection followed the spread of this annual flu, case by case, hour by hour.
It's true that the death rate from Coronavirus appears to be around 2% in China, which is much higher than the death rate from the normal flu, but like the flu increases with age.  However, outside of China the death rate is far less than inside China, roughly 1%.   And, there is already a drug that will combat COVID-19 moving toward first phase clinical trials.  It took three months for this to happen in 2020, versus 20 months for SARS back in 2002/03 - a testament to advances in drug technology." 1
This is hardly new territory. The world has experienced many similar situations over the past 40 years, and we have consistently – through technology and governmental co-operation – seen faster and faster solutions.
We cannot speak to the medical implications; however, we have seen time and time again that the more fearful the general investing public is, the better the long-term buying opportunity is.
Graphic: First Trust, Epidemics and Stock Market Performance Since 1980
There is no doubt that the coronavirus will slow down economies and global supply chains in Q1. Depending on containment, there is also the possibility that the slow-down may continue into Q2. With that said, however, we believe there is a strong possibility that they will rebound in Q2 due to pent-up demand and based on similar historical health epidemics (see graph above).
As part of our Summit Investment Process, we are constantly speaking with macro experts and portfolio managers to determine the most probable long-term outcome and taking necessary steps to prepare.
Our opinion stands that although short-term market fluctuations are likely to maintain a volatile path throughout 2020, the long-term outlook is very positive.
If you have any questions, please do not hesitate to reach out – we are always happy to discuss. 
Sources:
1 Wesbury, Brian, and Stein, Robert. "Stay Invested, It's Not Time to Fear the Coronavirus." Real Clear Markets, 25 Feb 2020 https://www.realclearmarkets.com/articles/2020/02/25/stay_invested_its_not_time_to_fear_the_coronavirus_485247.html#:~:text=According%20to%20Worldometer%2C%20which%20aggregates,(where%20data%20is%20suspect).
Securities offered through LPL Financial, Member FINRA/SIPC. Investment advice offered through Providence Capital Partners, Inc., a registered investment advisor. Providence Capital Partners, Inc. and Denver Wealth Management are separate entities from LPL Financial.
The opinions voiced in this material are for general information only and are not intended to provide specific advice or recommendations for any individual.
All performance referenced is historical and is no guarantee of future results. All indices are unmanaged and may not be invested into directly.
The economic forecasts set forth in this material may not develop as predicted and there can be no guarantee that strategies promoted will be successful.
All information is believed to be from reliable sources; however, Denver Wealth Management and LPL Financial make no representation to its completeness or accuracy.
The information in the links above are being provided strictly as a courtesy. When you link to any of the web sites provided here, you are leaving this web site. We make no representation as to the completeness or accuracy of the information provided at these web sites. Nor is the company liable for any direct or indirect technical or system issues or any consequences arising out of your access to your use of third-party technologies web sites, information and programs made available through this web site. When you access one of these websites, you are leaving our web site and assume total responsibility and risk for your use of the web sites you are linking to.