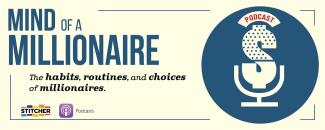 Mind of a Millionaire: January Portfolio Review; 2020 Outlook
Thank you for tuning into the Mind of a Millionaire podcast. This week, Zak discusses the first portfolio review meeting of the new year. If you don't already know, this meeting is an opportunity for all of our advisors to get together and share thoughts on portfolios, allocations, funds, markets, etc. From there we can determine if and what changes may need to be made to our investor's portfolios.
This portfolio meeting was not only the first of the new year – new decade even – but the first of a new election year; which although still months away, was a big portion of the discussion. If you have questions regarding our 2020 outlook or our January portfolio meeting, please do not hesitate to call or email. We would be happy to discuss.
What is the portfolio review meeting?
What happened in the market 2019? 
US Stocks vs. Global Stocks
Potentially a great year to be diversified
US Small Caps
How will the election impact the market/economy?
Joe Biden winning the Democratic nomination
Bernie Sanders ending the energy sector
Elizabeth Warren and the big financial companies
A dark horse candidate
What could go wrong in 2020?
ESG's and Socially Responsible Investing
Andrew Yang and the Freedom Dividend
Zak's advice to skeptical investors going into the election
What you can control vs. what you can't control
Thank you for tuning into the Mind of a Millionaire podcast – we hope you enjoyed and potentially learned something new. If you would like to discuss more, please don't hesitate to call in. We love talking finance.
For our lady investors, we have a great opportunity coming up to learn more about addressing your financial future. If you're interested you can RSVP here.  
Securities offered through LPL Financial, Member FINRA/SIPC. Investment advice offered through Providence Capital Partners, Inc., a registered investment advisor. Providence Capital Partners, Inc. and Denver Wealth Management are separate entities from LPL Financial.
The opinions voiced in this material are for general information only and are not intended to provide specific advice or recommendations for any individual.
No strategy assures success or protects against loss.
All performance referenced is historical and is no guarantee of future results. All indices are unmanaged and may not be invested into directly.
The economic forecasts set forth in this material may not develop as predicted and there can be no guarantee that strategies promoted will be successful.
There is no guarantee that a diversified portfolio will enhance overall returns or outperform a non-diversified portfolio. Diversification does not protect against market risk.
International investing involves risks such as currency fluctuation and political instability and may not be suitable for all investors.