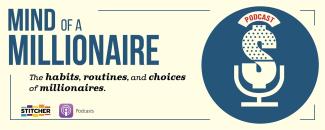 Mind of a Millionaire: The Cost of Saving; Where Should You Spend Your Frugal Bucks?
Thank you for tuning in to episode 74 of the Mind of a Millionaire. This week we are discussing The Cost of Savings. In other words, when should you be frugal, when should to try really hard to save money, and when is it more worth your time to simply pay market/retail price for something?
The Two Factors of building wealth
How do you determine when it's worth hiring a professional?
The $100 Rule
What is your time worth? How is the quality of work?
Start with your highest expense
How can you get your mortgage payment down? Should you refinance?

What are the other expenses (taxes, commuting cost, HOA, etc.)?

How can you lower the cost of your car?

What is the cost of insurance?

How can you lower the cost of health insurance?
Coupon apps
Take a look at your grocery budget
DWM's Beef-01k/401-Cow
Buying gear out of season
Buying gift cards for reoccurring purchases (e.g. restaurants)
What should you do with the money you've potentially saved?
Thank you for listening. As always, do not hesitate to reach out if you have any questions or in the case, if you have any great time-sensitive savings tips that we didn't mention.
Securities offered through LPL Financial, Member FINRA/SIPC. Investment advice offered through Providence Capital Partners, Inc., a registered investment advisor. Providence Capital Partners, Inc. and Denver Wealth Management are separate entities from LPL Financial.
The opinions voiced in this material are for general information only and are not intended to provide specific advice or recommendations for any individual.
No strategy assures success or protects against loss.
This material contains only general descriptions and is not a solicitation to sell any insurance product or security, nor is it intended as any financial or tax advice. Please keep in mind that insurance companies alone determine insurability and some people may be deemed uninsurable because of health reasons, occupation, and lifestyle choices.