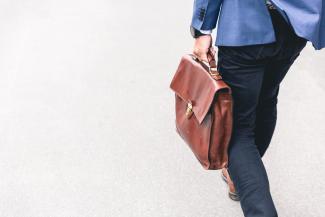 Investing in Your Human Capital
Subscribe to the Mind of a Millionaire Podcast on iTunes, Spotify, or Stitcher.
This week, Austyn Garcia and I delve into the power of your human capital. We discuss the highest-earning occupations, how to become a high earner, and the characteristics of millionaires—after all, just because you can earn a high income doesn't necessarily mean you can keep a high income.
Rather than referring to our usual market rate of return, we will examine a different investment: one's ability to generate and grow an income. 
Here's the premise:
Taylor earns $40,000 per year with $10,000 of investable assets. If Taylor pours time into investment management and earns a 10% rate of return, Taylor's investable assets will grow by $1,000.
However, if Taylor pours the same time and energy into work and improving valuable skills, Taylor may earn a $10,000 raise. That's a 25% rate of return. Of course, there are numerous variables at play, but you get the idea.
If you have questions regarding your long-term financial plan, including investment management, insurance and long-term care planning, estate planning, cash-flow management, and so on, call our office at (303) 261-8015 or schedule a free consultation on our website.
THE HIGHEST EARNERS
There are multiple methods of examining the qualities of high earners. The first—and easiest—is to pull a list. According to CareerOneStop, the ten highest-earning occupations are in medicine, nine of which are tied for first place ($280,000+/year):
General Internal Medicine Physicians
Obstetricians and Gynecologists
Oral and Maxillofacial Surgeons
Orthodontists
Physicians, All Other; and Ophthalmologists (Except Pediatric)
Prosthodontists
Psychiatrist
Surgeons (Except Ophthalmologists)
If you want to be a high-earner, there's nothing wrong with heading to medical school. That said, there are sacrifices, the most notable being high student loan debt. The other challenge is the strenuous education; you can expect four years of medical school plus another 3-7 years of residency.
Luckily, for folks who don't desire a career in medicine, the list of high-earning jobs opens up after the top ten: c-suite executives, airline pilots, engineers, marketing managers, and so on—all careers requiring only a bachelor's degree.
Whether you choose to heal folks, fly planes, or sell push products, the top earners all have one thing in common: a degree.
IS COLLEGE WORTH IT?
Conducted by the Ramsey team, the most comprehensive study of millionaires found that most seven-figure accumulators attend college. That said, "it's the degree that matters, not where the degree comes from." While 88% of millionaires surveyed said they graduated from college, nearly two-thirds attended public schools. An Ivy League education is not required to be a millionaire.
Sure, plenty of profitable occupations don't require secondary education, like starting your own business. However, while many business owners succeed tremendously, the vast majority of new ventures fail (only 25% make it to 15 years)—likely why the independent occupation doesn't rank among the highest earners.
As mentioned, just because one may have the ability to earn a significant income doesn't mean they can amass high net worth. The same study concluded that the top five millionaire careers are engineers, accountants, teachers, managers, and attorneys—not one overlapping with the top-ten list of highest-earning occupations.
Again, these degrees all require some level of higher education; however, lawyer aside, you're not risking the same level of debt. The other factor differentiating Ramsey's top-five is the lifestyle.
You may have heard of the White Coat Investor, Jim Dahle. Jim is a practicing emergency physician, out of residency for 12 years. Jim is also a personal finance guru for other medical professionals (hence "White Coat Investor"), helping aspiring professionals navigate the unique, expensive, often flashy lifestyle associated with high earners.
Jim writes about the heavy societal pressure of fitting in as an out-of-residency medical professional. After earning little-to-no income for 10+ years, that new Mercedes and high-rise apartment look pretty attractive through the lens of a $200,000 pay raise.
 On the other hand, a teacher may start a career earning $30,000 per year, forcing frugality, and maintaining intelligent financial habits.
DO A LITTLE RESEARCH
While a high-earning occupation sounds lovely, it's not an easy journey. Beyond the time and financial sacrifice, other individual skills and opportunities must still align.
In the article, The 7 Skills You Need to Earn a Six-Figure Salary, doing your research ranks #1. It may go without saying, but if you want to climb the rungs to a higher income, be sure you're on the right ladder.
Unfortunately, some careers simply don't cater to high earners. If you want to be a professional chef, that's fantastic, and I certainly appreciate your work—sometimes in abundance—but that is a long road to wealth. Yes, a handful of culinary artists make well into the six-, seven-figures, but that's far from standard.
There is no one-hat-fits-all method for researching your most suitable occupation, but my best advice to anyone is to network. Ask around. If you want to drive a luxury, foreign sportscar, chat up the next Ferrari driver that you see. What do they do for work? (To spare you the time, this is a trend on social media.)
A few years back, I went to an investment class at UCLA and spent some downtime Lyme scootering around Beverly Hills, conducting off-the-cuff interviews of residents, asking what they did to afford the 90210.
Warren Buffett has some great advice on emulating desirable traits for folks who aren't that outgoing: write the five characteristics that you most value and least value in people. Replicate the five that you admire and avoid the five you don't.
HAVE SOME SKIN IN THE GAME
"Capital takes the risk; capital gets the reward;" more Warren Buffett wisdom for you.
In the podcast, I spend more time discussing negotiation, which I believe can be a win-win event. That said, negotiation in the workplace doesn't always pertain to your salary. Instead, try to get some skin in the game—tie yourself to your company's success.
Rather than asking for that $10,000 raise, consider asking for a 1% commission on sales.
THE TRADEOFF
What is your tradeoff between time spent researching and managing your portfolio vs. improving your skills and climbing in your career?
There was a point in my life when I tried to change my own oil. Usual risks aside (i.e., ruining my car), the amount of time I spent researching how to change my oil, plus the time spent struggling to play mechanic-for-a-day, cost more than had I taken my car to a professional.
Most retail investors can view portfolio management in the same way. Investing in your profession will likely generate higher returns than the extra 1% above-the-market that the average retail investor may earn from the same time and energy spent managing investments.
So, what can you do to catalyze wage growth? If you're a surgeon, maybe that's taking on more surgeries. If you're a businessperson, close more deals. Learn new skills. Read more books. Listen to podcasts.
Generally speaking, if you're under 55 years old, your greatest asset is the ability to earn an income.
CRYPTO CHAT ROOMS
Cryptocurrency provides another excellent example of the importance of human capital. Crypto chat rooms are packed with folks seeking to turn $100 into $1,000,000 with a couple of mouse clicks and swings of the magic wand.
Success from the buy-hold-sell method that turned crypto pioneers into modern-day royalty is scarce these days. Rather than day-trading cryptos, invest in yourself—maybe start a blockchain business, for example.
FINAL THOUGHTS
I've thrown a lot of information at you—plenty to consider, especially for younger investors. Thus, I will try to keep the summary brief.
If you want to be a high earner, do your research: what do high earners do? What does the educational pathway look like? What do they read? What are their characteristics?
For most, investing in yourself and your ability to generate an income will have the most significant impact on your long-term financial picture.
If you have questions regarding your investment management or long-term financial plan, call our office at (303) 261-8015 or schedule a free consultation on our website. 
Disclosures:
Securities offered through LPL Financial, Member FINRA/SIPC. Investment advice offered through Denver Wealth Management, Inc., a registered investment advisor. Denver Wealth Management, Inc. is a separate entity from LPL Financial.
The opinions voiced in this material are for general information only and are not intended to provide specific advice or recommendations for any individual.
All investing includes risk including the possible loss of principal. No strategy assures success or protects against loss.
Any quoted rate of return is a hypothetical example and is not representative of any specific investment. Your results may vary.
All performance referenced is historical and is no guarantee of future results. All indices are unmanaged and may not be invested into directly.
The economic forecasts set forth in this material may not develop as predicted and there can be no guarantee that strategies promoted will be successful.
Companies mentioned are for informational purposes only. It should not be considered a solicitation for the purchase or sale of the securities. Any investment should be consistent with your objectives, time frame and risk tolerance.
The information in the links above are being provided strictly as a courtesy. When you link to any of the web sites provided here, you are leaving this web site. We make no representation as to the completeness or accuracy of the information provided at these web sites. Nor is the company liable for any direct or indirect technical or system issues or any consequences arising out of your access to your use of third-party technologies web sites, information and programs made available through this web site. When you access one of these websites, you are leaving our web site and assume total responsibility and risk for your use of the web sites you are linking to.